Aside from Skins, Heston and Gossip girl I don't watch a lot of television. However, recently I've become addicted to one particular reality TV show.
Before you judge me quicker than a contestant on Big Brother, let me just say that the show is made by the BBC and it combines fashion, luxuries and travel albeit in a very unique way.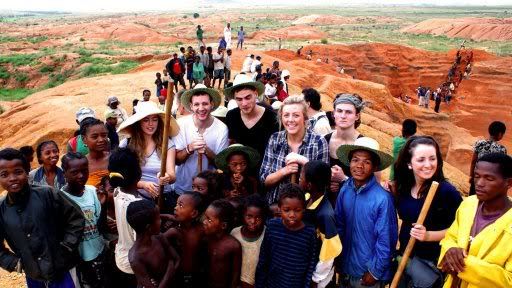 The Blood, Sweat and Luxuries participants at a Madagascan Saphire mine
I'm talking about
Blood, Sweat and Luxuries
of course -the third season of the 'Blood, Sweat' series following 2008's Blood, Sweat and T-shirts and 2009's Blood, Sweat and Takeaways. The last episode is due to air on ABC2 this Wednesday night at 8:30pm so you should definitely catch it if you can. I think it's also still available to view on ABC's iView if you're interested.
This documentary/reality series follows a group of young Brit's to some of the poorest countries in the world to see where their luxury goods and disposable fashion are made. They work in factories and sweat shops alongside local workers, live with local people or in the same conditions as local people and essentially gain a greater understanding of the 'food chain' involved in the creation of that French Connection coat or that H&M caftan.
The content of the program can at times be quite shocking and it frequently leaves me in tears/fits of rage/feeling guilty but it is also forcing me to consider my actions as a consumer and to question where my money is going when I buy into the fashion and luxury industries.
Coffee Plantation workers - sorting beans by hand
It is clearly apparent - and a widely known fact - that the western world exploits the developing world to feed the ever-raging hunger of consumers. Garments are made by Indian children who earn barely enough to survive and then sold to western consumers with astronomical mark ups. Diamonds are mined in 'prehistoric' conditions throughout Africa by workers earning just enough to support their families, yet they fetch thousands of dollars in western markets. Coffee plantation workers work backbreaking 16 hour days, so we can enjoy our daily morning luxury - their weekly wages equivalent to the cost of a Skinny latte at Starbucks.
This isn't new information and I am the first to admit I am most certainly not an expert on this situation, but I am asking what can I do about it? Why is it happening and is western society to blame?
As a fashion lover and typical twenty-something, I like to shop. It's no secret. Almost everyone I know does. We work hard, play hard and enjoy spending our earnings. Is that so wrong? Consumerism is engrained in our culture but this program has made me question if this in itself is always a bad thing.
Whilst, I hate contributing to the exploitation of third-world workers (seriously who wouldn't), the sad fact is that if we stop buying thousands of jobs will be lost and the people and communities that rely on the fashion and luxury industries to survive will suffer.
So what can I do as an individual, that will improve the lives of workers in developing countries?
I'm going for the two-pronged attack.
1. Swap regular products for fair trade products where possible
2. Op-shop more and seek out ethical fashion.
Swapping to fair trade products
By purchasing fair trade or locally grown/produced products accredited by the
Fair Trade Association of Australia and New Zealand
I can be assured that workers who contributed to the product are receiving an adequate wage for their work and safe working conditions. In my experience these products are of equal quality to non Fair-trade brands and not overly expensive like they used to be. Their one downfall is availability.
I was appalled, when a recent trip to my local Woolworths (the BIG one at Ashgrove) revealed the supermarket stocked only 1 fair trade chocolate product (Black and Green's Orange Chocolate – the rest of the B&G range is not fair trade) and 1 fair trade instant coffee product (there were a few more fair trade filter coffees/coffee beans though).
Why is this the case when iconic brands like Cadbury now offer
a small range of Fair trade products
like their famous Dairy Milk Chocolate?
Sites like
Fairly Local
allow you to look for stores and cafes that stock fair trade products in your local area but the array of products available is fairly limited. Like any market, there needs to be more demand for these products for supermarkets to 'justify' stocking them.
So get the word out. Make a small change if you can in your own purchasing habits or simply become more aware about what you're buying.
Embracing ethical fashion.
Buying fair trade also gives you the perfect excuse to op-shop to your heart's content. Pre-loved garments, jewellery and handbags may have originated in developing countries years ago but they aren't contributing to the current labour market in developing worlds and giving them a new home means they won't end up as land fill any time soon.
But you can't give up your designers? You still want that new season Collette Dinnigan dress and a pair of Nobody jeans for winter wouldn't go astray?
Well you can have them!

Lucky for us we are also able to stock our wardrobes with ethically approved clothing by the likes of Cue, Ginger and Smart, Bardot, Collette Dinnigan and Nobody to name a few. Check out
Ethical Clothing Australia
for a more comprehensive list of brands and designers with the ethical seal of approval. Who needs an excuse to go shopping now? 
If you read this blog occasionally, then you'll know this is an unusual post for me and I honestly never intended to voice these concerns in this kind of arena. My decision to do so was spurred because I feel passionately about injustice and inequality and I really just felt it was an appropriate time to talk about this issue being that it is
Fair Trade Fortnight
from May 7 – 22 May. Fair Trade Fortnight is aimed at encouraging Australian's to swap their 'coffee, chocolate and cuppas' for fair trade alternatives…why not try it yourself?
So after all for that what are your thoughts? Already munching on Cadbury chocolate while shopping online at Ginger and Smart? I hope so…