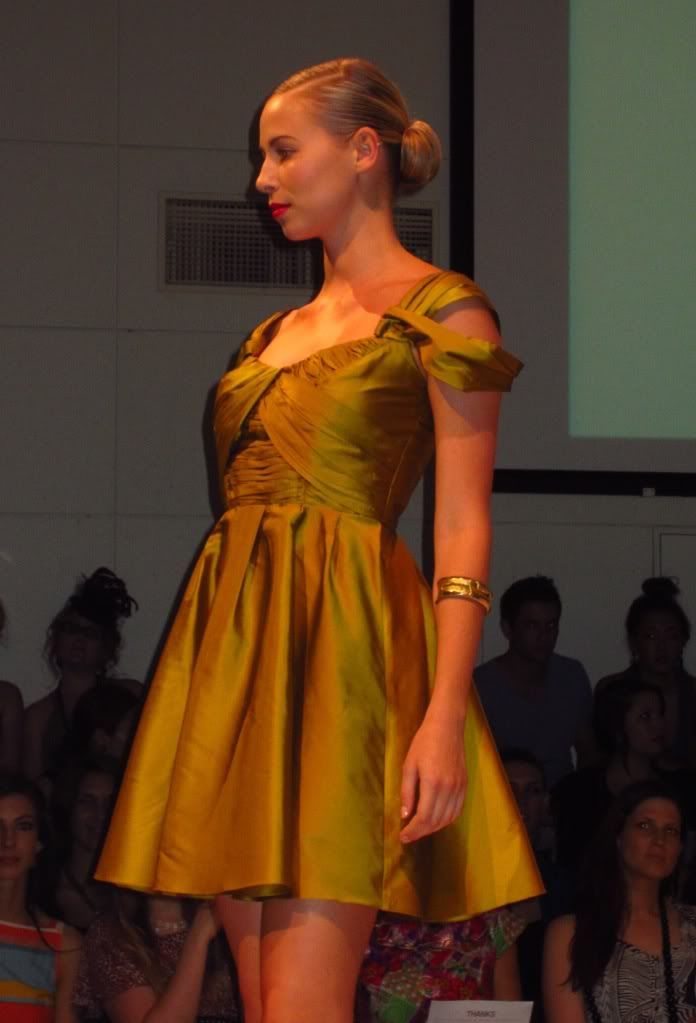 Phoebe Younger
I'm no fashion expert, but I can tell you that there are a lot of talented young designers in Brisbane.
Well last night when the style set were all attending the Chanel show, my lovely friend B and I were sitting second row at the 2011 QUT Fashion Graduate Show.
I can just hear you all now…Second row? What a loser… she wasn't even invited to Chanel…but before you step away from your computer have a think about it: champagne and fashion.
There is no loser here.
The show was titled SIX as most of the graduating students presented six pieces from their final collection – the culmination of their university studies. The collections were mainly womenswear but there was also swimwear, lingerie, menswear, accessories, and theatre costumes on show and the quality of all the collections was simply outstanding.
The show was billed as having an international flavour and it did not disappoint.
There was Kirsty Glynn's romantic and Victorian-esque 'Out of Colonial Africa', Alexandra McGuire;s stylish swimsuit collection 'Border Lines' which seemed to be inspired by the chaotic colour of India and Pakistan (I want!

I want!) and the quirky unisex collection 'Boys and Girls are choice' by Sally Edwards which featured a lot of tartan.
I don't think I could choose a favourite collection but I absolutely adored Phoebe Younger's 'Cue 2012 – New Royalty' collection, Katrina Gaskin's 'The Fallen Romantics A/W 2012' lingerie collection, and Jacqueline Curran's 'Mirror Animal'.
If I wasn't wearing my super high heels, I would have tried to crash tackle the 16 year old models to get my hands on some of the pieces.
Of course, at a fashion show you tend to get caught up in the moment and I apologise that my photography skills were a little lacking (check out Suburban Intellect for better photos and B's account of the night). Despite this I feel like you can still get an idea of some of what was on show and hey, if you are free tonight or tomorrow night, you can go see for yourself! Tickets are available here or you can view the video QUT put together to showcase some of the students work below.
Please note all photographs are author's own of original work by 2011 QUT Fashion Graduates.
No offence is intended in the publication of these photo and if you have any issues with the publication or a request for withdrawal please contact me immediately.