On Friday I finished work early to attend
St Jerome's Laneway Festival
in Brisbane. It is generally a smaller music festival with amazing bands and this year was no exception. I've been to the festival before but in my time overseas, it has gotten bigger and better, expanding to a new site with better facilities.
Laneway happened to be on a particularly humid day in Brisbane but despite the unbearable heat, it was one of my favourite festival experiences in recent times. Don't you think my friend Char and I look great despite the humidity?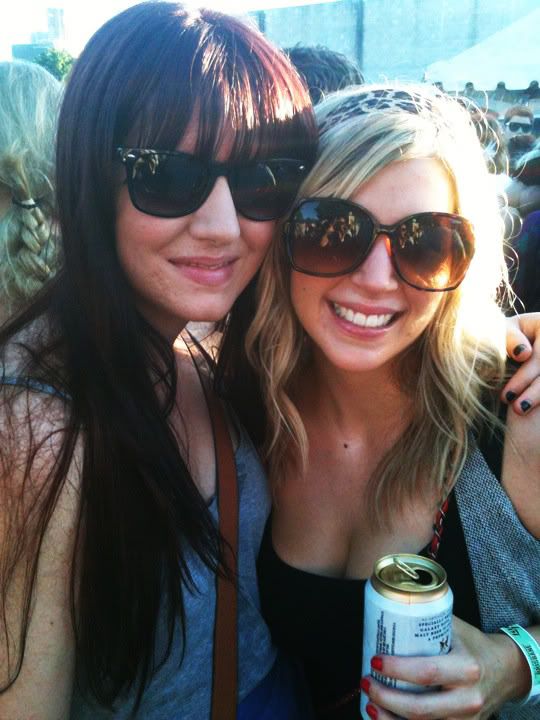 My afternoon started out with a little bit of Beach House and The Antlers and then moved on to the much hyped, all girl band from LA - Warpaint. I find their music quite mesmerizing and although you can't really see it in the below photo they also have great style.
Warpaint
Char and I at Warpaint. Note I am wearing my favourite headband. You can NEVER own enough leopard print.
After Warpaint we headed over to the Main stage to see Two Door Cinema Club. They were so energetic and fun that we danced and sweated our way through their set with huge grins on our faces!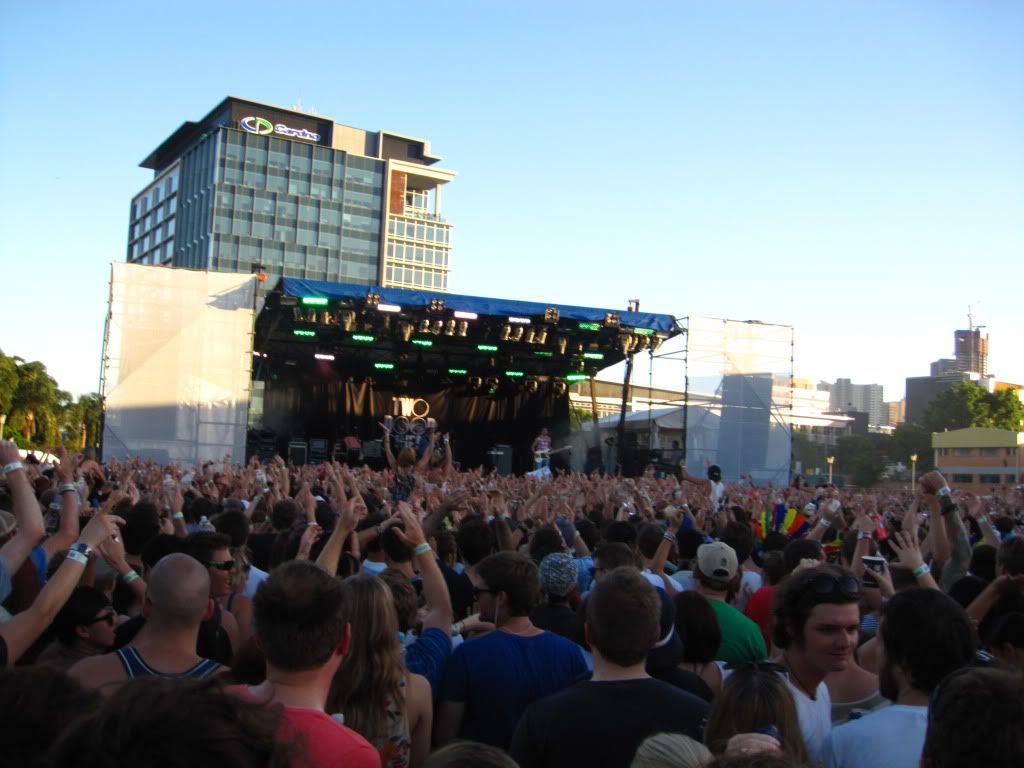 Two Door Cinema Club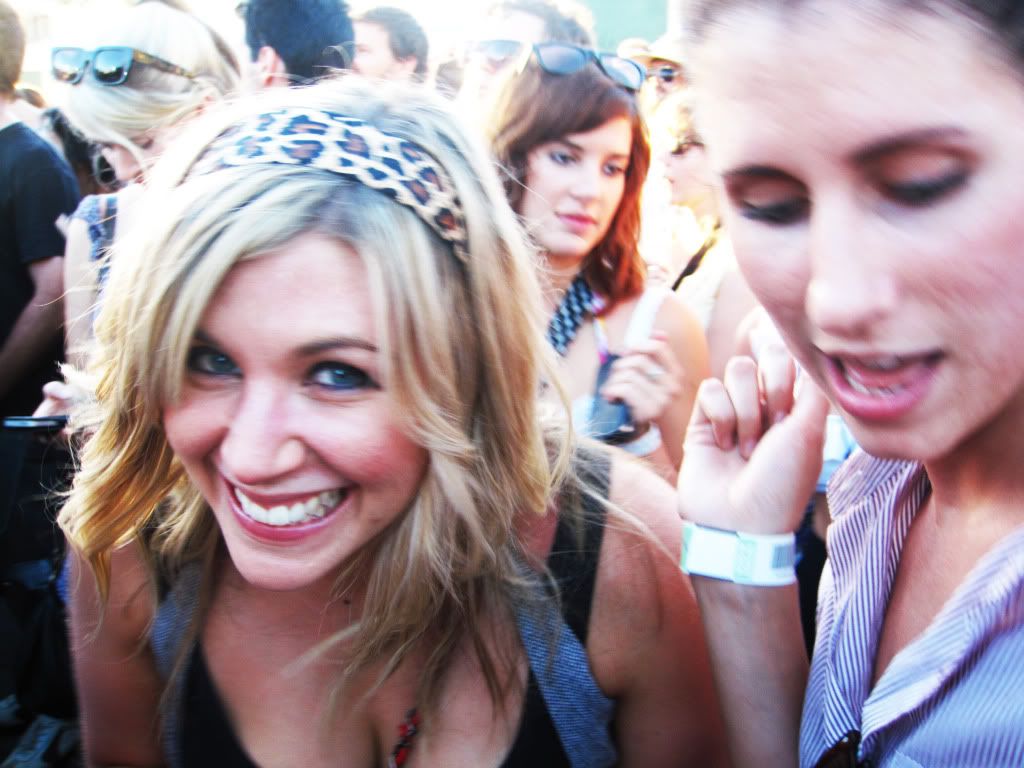 See I told you - huge grins while dancing!
Yeasayer were next on our timetable plan and they were phenomenal. To me their set felt quite atmospheric and sounded beautiful.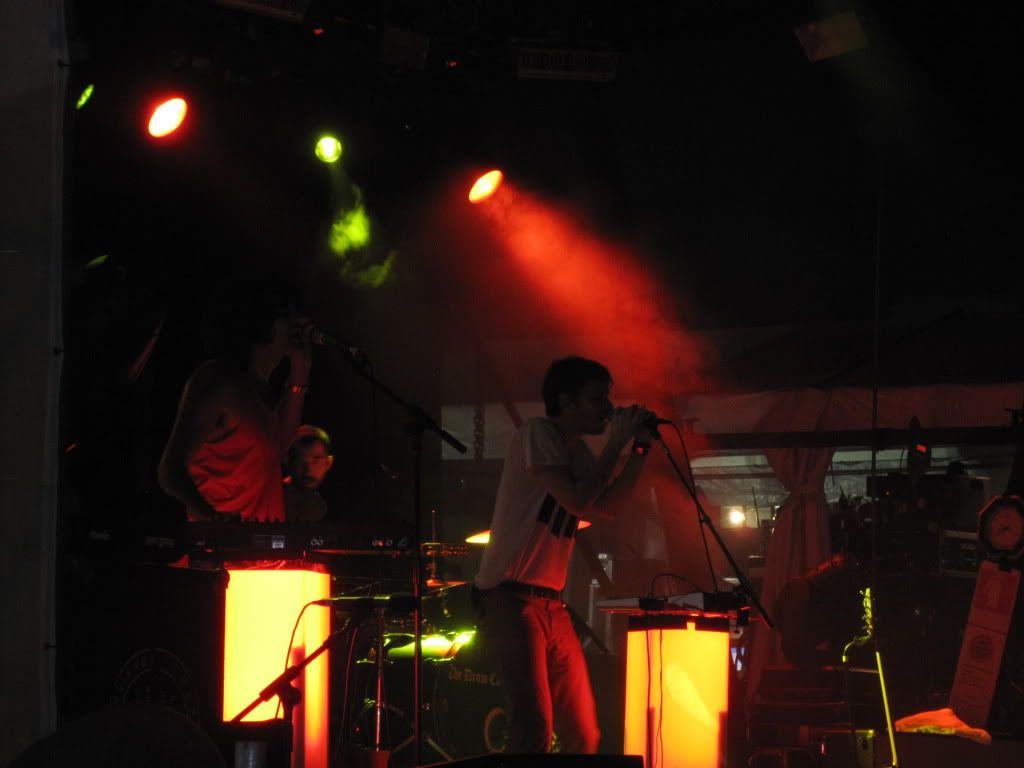 Yeasayer
Next up was one of my highlights - Australian band Cloud Control. I have missed seeing them a couple times recently (at their own gig and at Sunset Sounds) so I was beyond excited to finally see them live - even if it meant cramming myself into an alleyway with a couple of hundred sweating festival goers and having my arse groped by drunken fools. It was
so
worth it. They played an amazing set, pulling out a cover of Kid Cudi's 'Pursuit of Happiness' and breaking into Butthole Surfers 'Pepper' halfway through a song. The sound was great and I had a pretty good view too!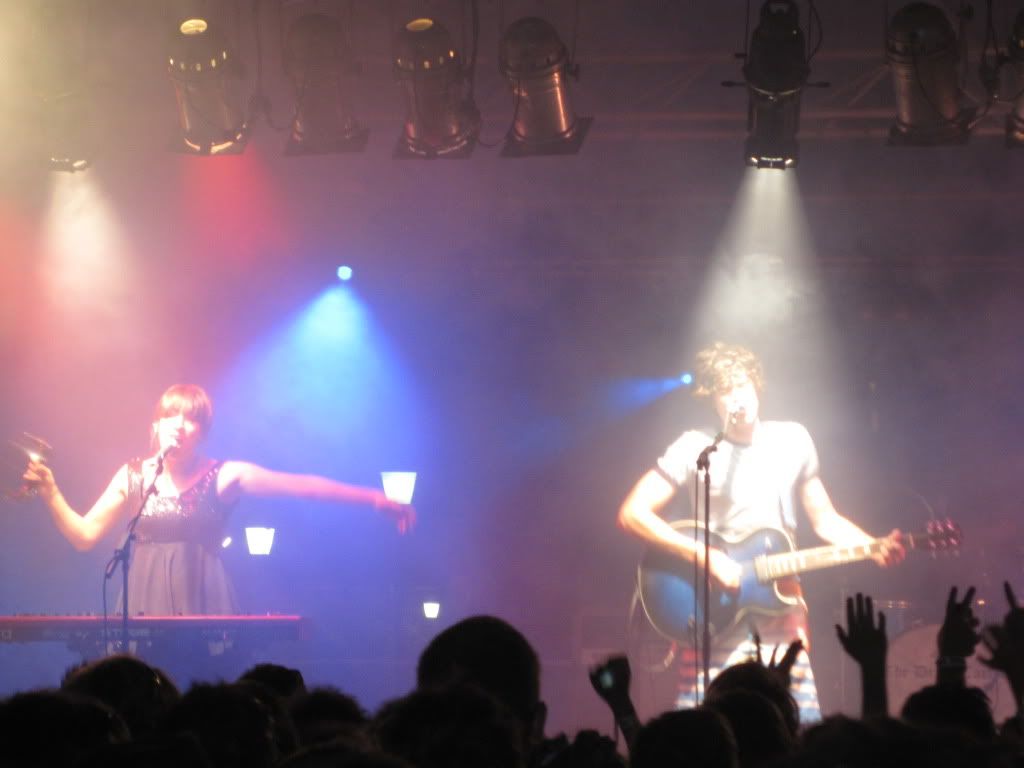 Wonderful, wonderful Cloud Control
As the evening wore on the heat began to take its toll on us. Foals followed Cloud Control, but we decided to have a little sit down during their set, to listen and conserve some energy for the Jezabels who unfortunately were my biggest disappointment of the night. They sounded great but they just weren't loud enough! Whilst they played on the same stage as Cloud Control, they didn't really own it to the same extent and the audience was quite restless and moving around a lot which made it difficult to try and appreciate the band. :-(
Cut Copy closed the festival, playing some of their new album alongside some old favourites. It took them a while to get it together but once they started the whole crowd went with them; dancing and singing under the stars...the perfect (lane)way to end a great day!